An innovative trend report highlighting 
how conscious consumerism is influencing 
colour and materials in packaging.
Name: Packaging Futures Report
Industry: Beauty, Wellbeing, Packaging 
"
The pandemic has led to a 
detailed questioning of the balance between 
living, working, learning, resting, and activity. 
ANIMISMA encourages us to look deeply 
and ethically at the objects and systems that 
inhabit our personal space
. As 
a result, newfound relationships with objects, 
spaces, and basic materials have been 
drawn up, reminiscent of a fresh blueprint to 
better reflect a more symbiotic way of life
."
A mindful slowing down and revision of what's truly necessary are at the core of the ethos for packaging. In Trend Direction ANIMISMA, products and experiences are selected to 
celebrate beautiful basic ingredients and nurture a healthier attitude about what we truly need to consume. As a result, shapes are minimal, while natural materials 
that can be regenerated are carefully chosen. Rejecting the notion of single use, this packaging story fosters a new symbolic and caring outlook towards the objects and vessels we have in our homes.
Commissioned by beauty trend leader Beautystreams, Laura researched and designed this unique trend report proposing an entirely new ways of thinking about what consumer need in a post-covid era, highlighting radical materials concepts, colour and design opportunities for more mindful packaging futures. Part of a series of four reports. 
BEAUTYSTREAMS is a global media company. The platform is a connection point for the beauty industry – a go-to platform for strategy, product development, and marketing teams worldwide.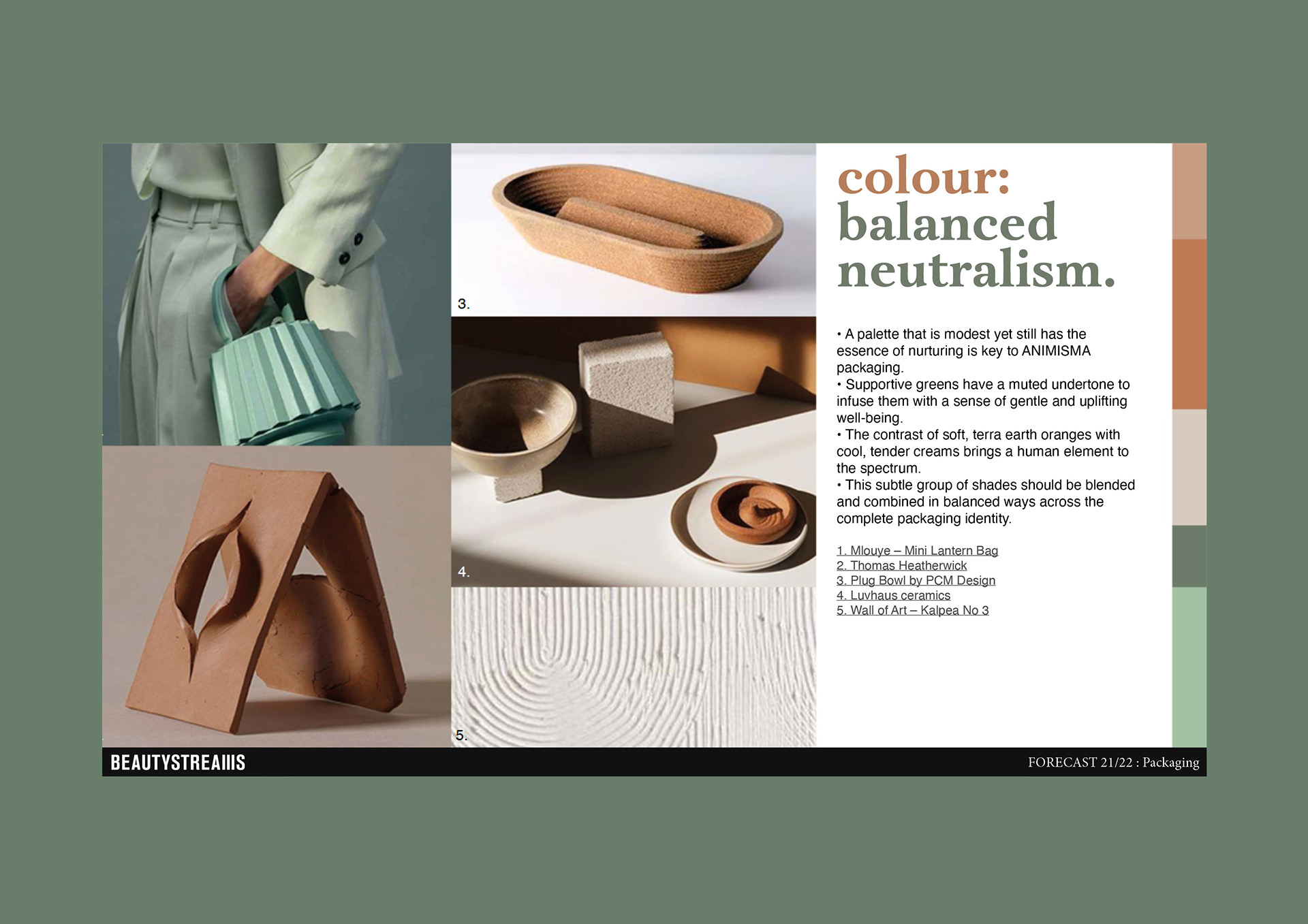 FOR MORE INFO ON BESPOKE TREND REPORTS
 > LAURA@COLOUROFSAYING.COM